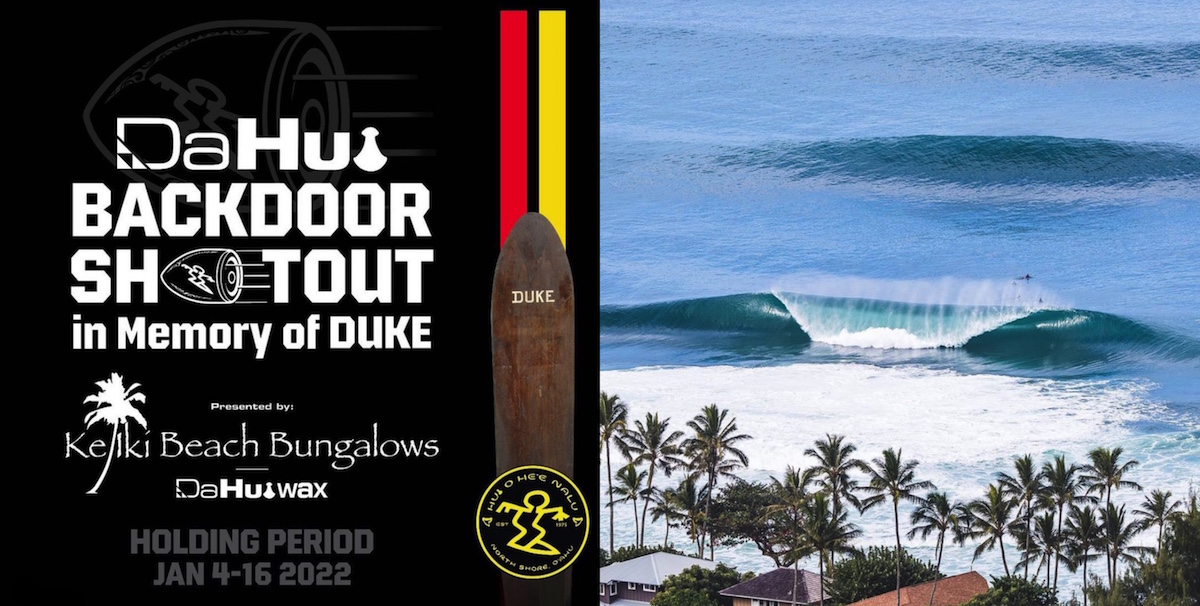 You can't help but notice the signs leading to and from the North Shore. "Keep the Country, Country" is a monicker that has been adopted by this side of the island. However, it's hard to envision the viability during certain times of the year, especially surf contest season which typically runs from October until late February to coincide with the winter swell. When the Billabong Pipemasters (now called the Billabong Pro Pipeline) and VANS Triple Crown are cued up it's like a circus around here. And while all of the hoopla surrounding World Surf League (WSL) events are a lot of fun for locals and visitors alike, there is one contest that holds a special place in the hearts of us all here at Ke Iki Beach Bungalows – the Da Hui Backdoor Shootout.
The Da Hui "brand" was born in 1975 and since then has focused on preserving Hawaiian surfing, culture and traditions. It has done so successfully as a clothing label, but mainly out in the water. The Da Hui Backdoor Shootout (in memory of Duke Kahanamoku) is the alternative to WSL contests on the North Shore. It allows local surfers (some of the best in the world!) to compete on the grand stage of Banzai Pipeline without having to first cut through the red tape of WSL WQS/WCT qualification. While the contest is a draw for big names like Jamie O'Brien, John John Florence, Mason Ho, and other familiar faces, it also shines a spotlight on up and coming talent. A young warrior can emerge from their humble home on the slopes of Pupukea or countryside of Kahuku and reign victorious despite not having a single sponsor to back them. But on that latter note, support from the local community is imperative to ensuring that the Da Hui Backdoor Shootout can continue each year. After being cancelled in 2021 (for obvious reasons) it was very important to get the Backdoor Shootout back and running. Knowing this, Ke Iki Beach Bungalows has pledged to support the ohana behind Da Hui and is proud to sponsor the event this season.
The 2022 Da Hui Backdoor Shootout holding period is official underway. The event window runs from January 4 to 16. Whether you're staying with us here on the North Shore or you're home on the mainland be sure to stay tuned to the official Da Hui Instagram for updates. When the waves arrive, the event will be ON. You don't want to miss this one!
~ ALOHA ~