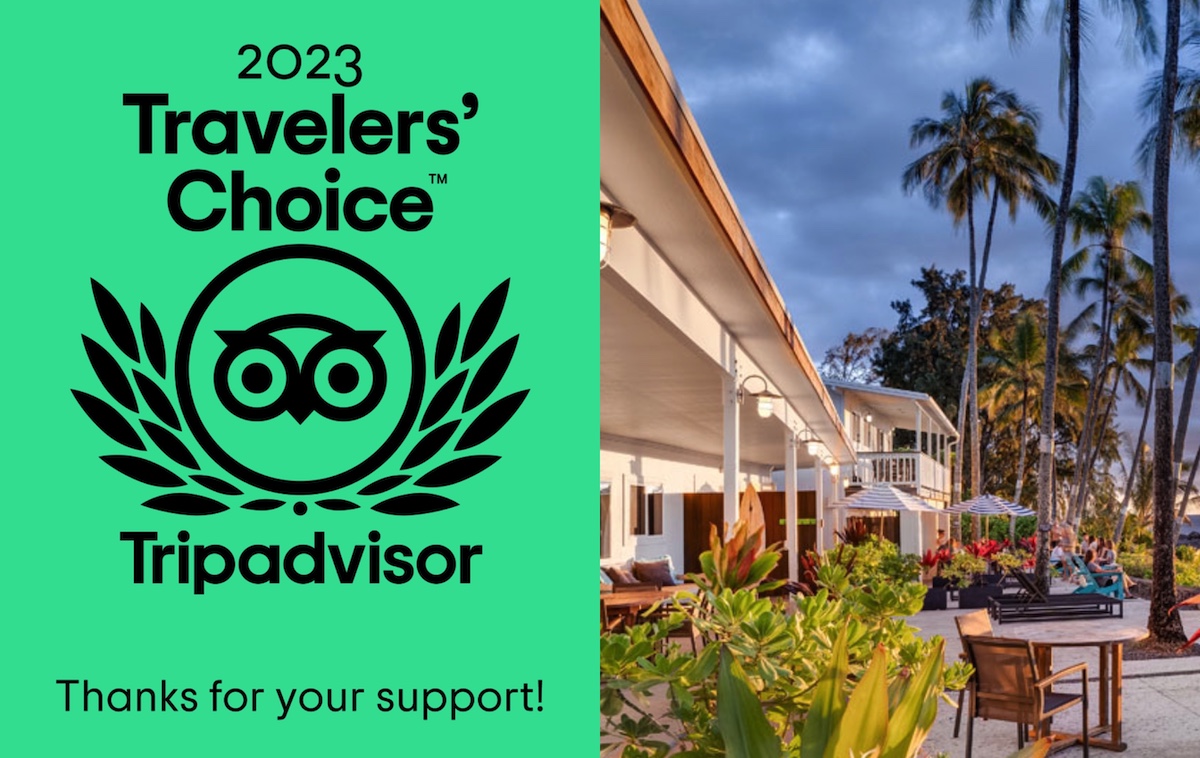 Ke Iki Beach Bungalows' Great Visitor Reviews Land it a Place Among Travelers' Favorites
Haleiwa, Hawaii | May 24, 2023
We're pleased to share today's announcement that Ke Iki Beach Bungalows has been recognized by Tripadvisor as a 2023 Travelers' Choice award winner for Top 10% of Hotels Worldwide. The award celebrates accommodations that have received great reviews from visitors around the globe on Tripadvisor over the last 12 months. Ke Iki Beach Bungalows has stood out by consistently delivering positive experiences to guests.
"We're honored and humbled by this distinction, which ultimately comes from our beloved guests. Ke Iki Beach Bungalows hosts individuals, couples, families, and groups from around the planet, including those who are from here at home on the Hawaiian Islands. To be named amongst the world's top hotels and resorts really says something about the experience we strive to provide our guests. On behalf of the entire KBB Ohana, we wholeheartedly thank everyone who has stayed with us over the years. We look forward to your continued return!" 

Greg Gerstenbergerr, Ke Iki Beach Bungalows
"Congratulations to the 2023 Tripadvisor Travelers' Choice Winners," said Kanika Soni, Chief Commercial Officer at Tripadvisor. "The Travelers' Choice Awards recognize the best in tourism and hospitality, according to those who matter most: your guests. Ranking among the Travelers' Choice winners is always tough — but never more so than this year as we emerge from the pandemic. Whether it's using new technology, implementing safety measures, or hiring outstanding staff, I'm impressed by the steps you've taken to meet travelers' new demands. You've adapted brilliantly in the face of adversity."
To view visitor feedback visit the Ke Iki Beach Bungalows review page.
About Ke Iki Beach Bungalows
Beachfront accommodations on the North Shore Oahu. Ke Iki Beach Bungalows offers guests an authentic island experience where they will enjoy romantic sunsets on an acre-and-a-half of palm-fringed land. The recently remodeled bungalows are air-conditioned and boast a combination of ocean, countryside, sunset, and sunrise views. If you've been dreaming about a getaway in paradise, Ke Iki Beach is waiting for you.
About Tripadvisor
Tripadvisor, the world's largest travel guidance platform, helps hundreds of millions of people each month become better travelers, from planning to booking to taking a trip. Travelers across the globe use the Tripadvisor site and app to discover where to stay, what to do and where to eat based on guidance from those who have been there before. With more than 988 million reviews and opinions of nearly 8 million businesses, travelers turn to Tripadvisor to find deals on accommodations, book experiences, reserve tables at delicious restaurants and discover great places nearby. As a travel guidance company available in 43 markets and 22 languages, Tripadvisor makes planning easy no matter the trip type.
---