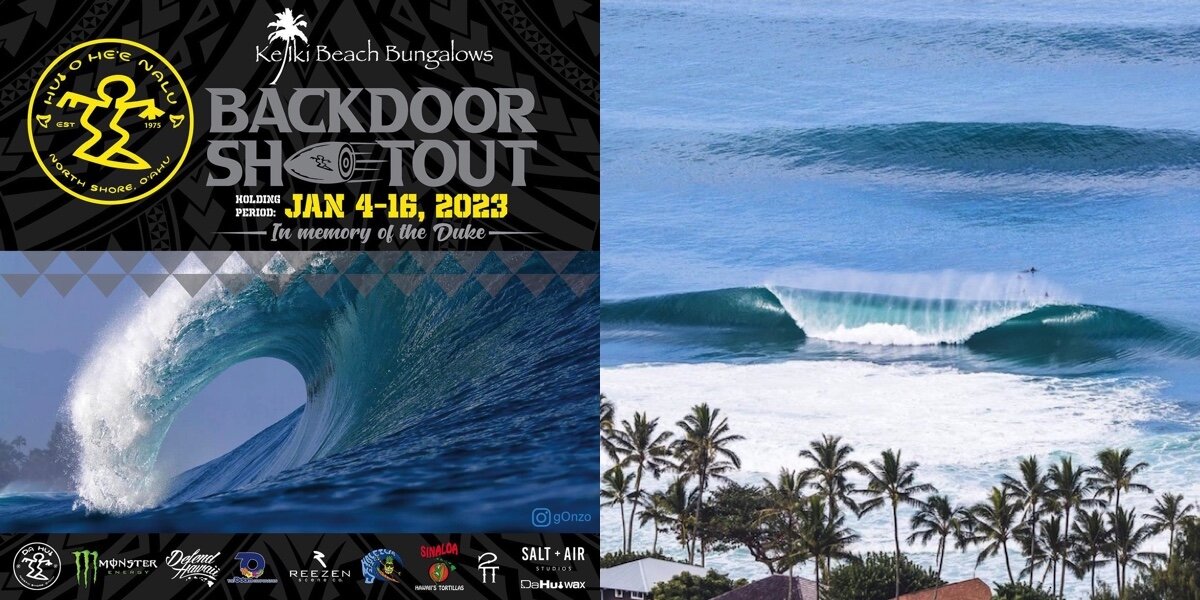 At press, the reimagined (copied?) VANS Pipe Masters just concluded on December 18 here on the North Shore. And in over a month the WSL's Billabong Pro Pipeline is slated to begin. But there is one Pipeline event that locals and those in-the-know are most excited about – the annual Da Hui Backdoor Shootout – running from January 4 to 16 at the onset of the new year.
That's right, after Ke Iki Beach Bungalows' inaugural sponsorship of the successful event in 2022, we're back once again to show our support for this important competition. Last year's affair was blessed by perfect Pipeline conditions, with Hawaiian royalty Mason Ho winning in dramatic fashion. We were honored to be a part of it all, and this time we've upped the stakes by offering $5,000 to the competitor who scores the Wave of the Winter.
---
Ke Iki Beach Bungalows Presents:
~
"Wave of the Winter"
---
For the uninitiated, the Wave of the Winter concept was created to celebrate warriors who charge some of the heaviest surf spots around the country throughout the winter season. As everyone knows, there is no heavier (nor more legendary) spot than Banzai Pipeline by Ehukai Beach Park. This is why Da Hui and Ke Ili Beach Bungalows is naming the 2023 Wave of the Winter at the place where it belongs, and at the event that honors Pipeline in its most purest form. Competition will be fierce this year as local heavyweights and adopted members of the North Shore ohana will be joining the teams. Rumor has it, that Kelly Slater will be competing for Da Hui this time. The 2023 event is shaping up to be bigger and better than ever!
~
Background: The Da Hui "brand" was born in 1975 and since then has focused on preserving Hawaiian surfing, culture and traditions. It has done so successfully as a clothing label, but mainly out in the water. The Da Hui Backdoor Shootout (in memory of Duke Kahanamoku) is the alternative to WSL contests on the North Shore. It allows local surfers (some of the best in the world!) to compete on the grand stage of Banzai Pipeline without having to first cut through the red tape of WSL WQS/WCT qualification. While the contest is a draw for big names like Jamie O'Brien, John John Florence, Mason Ho, and other familiar faces, it also shines a spotlight on up and coming talent. A young warrior can emerge from their humble home on the slopes of Pupukea or countryside of Kahuku and reign victorious despite not having a single sponsor to back them. On that latter note, support from the local community is critical to ensuring that the Da Hui Backdoor Shootout can continue each year. This is why Ke Iki Beach Bungalows has pledged to support the ohana behind Da Hui, and is proud to sponsor the event once again this season.